Ace Spade Pickleball Paddle Review 2023
If you're looking for a pickleball paddle to make you enjoy the game more or take your game to the next level, the Ace Spade paddle can definitely help you achieve that.
The Ace Spade pickleball paddle was designed by professional players in their goal to give you the best feel the game of pickleball has to offer.
Let us have a look on the different aspects of the paddle:
What Is The Overall Structure of the ace SPADE Paddle?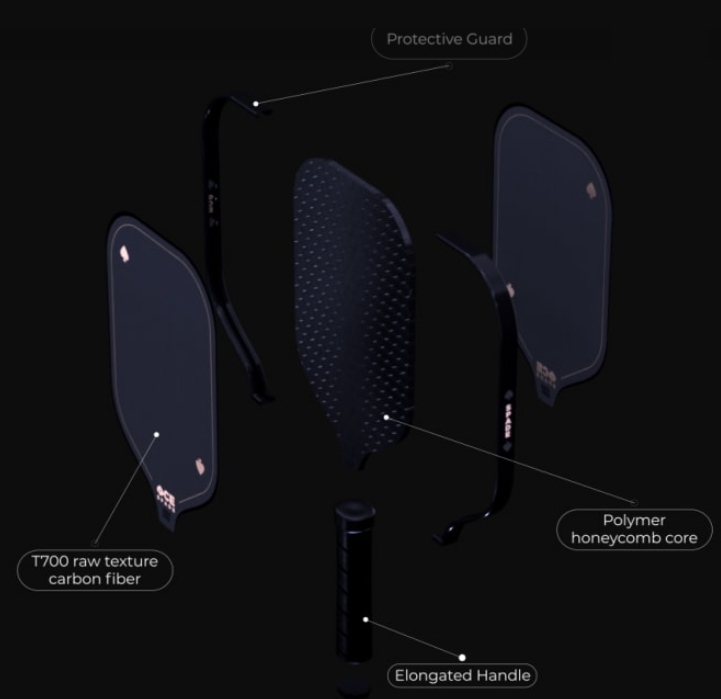 The polymer honeycomb core makes up the inner part of the paddle. It is sandwiched between two T700 raw textured carbon fiber surfaces.
The polymer core and the carbon fibers are protected on its sides by the protective guard that exudes elegance and excellent craftsmanship.
The elongated handle with an ergonomic grip finishes up the paddle and provides increased leverage for additional power and enables two handed backhand shots.
What Makes Up The Paddle Surface of the ace SPADE?
The surface of the paddle features a Toray T700 textured carbon fiber surface to help players generate maximum spin and control on the ball.
The carbon fiber material features a high strength-to-weight ratio which makes the paddle very strong yet lightweight.
The strength characteristic makes it durable and highly resistant to deformation.
The lightweight aspect of it gives you the following advantages:
Improved Maneuverability – easier to swing and move quickly which can be helpful in generating more racquet head speed and power
Less Fatigue – less tiring to use over the course of a long match or practice session
Better Control – offers more precise and refined control, especially on shots with a lot of spin or finesse
Increased Agility – a lightweight racket may help you move more quickly and explosively around the court
What Is The Essence of the elongated Handle?
The 5.5-inch handle with elongated shape provides you a more comfortable two-handed shots and increased leverage for that additional backhand power shots.
The 4.33-inch circumference of the handle combined with the perforated grip also gives you an appropriate hold on the paddle for added comfort and sweat protection.
Which Type of Players Suit The ace SPADE Paddle?
With its paddle structure design that balances power and control, the Ace Spade paddle is suitable for beginners to advanced players.
It also caters for all playing styles, including defensive, offensive and all-around players.
What Are The ace SPADE Paddle Specifications and features?
Paddle Specifications:
Paddle Size: 16.5 inches x 7.5 inches
Core Type and Thickness: Polypropylene, 16mm thick
Paddle Surface Material: Carbon Fiber
Handle Length: 5.5 inches
Handle Circumference: 4.33 inches
Paddle Weight: 7.5 – 7.8 oz.
Paddle Features:
Lightweight
Durable
Excellent Power And Control With The Combination of the Honeycomb Core and Carbon Fiber Surface
Top Technology
Premium Materials
Elongated Handle For More Power And Shock-Absorption Characteristic
Protective Guard
What is the price of the ace SPADE Paddle? is there a warranty available?
With all its features, quality materials, excellent craftsmanship and made in the USA, the Ace SPADE pickleball paddle is certainly not on the cheap end of pickleball paddles.
There are plenty of cheap paddles available everywhere but they won't give you the same feel and power that the Spade paddle provides and might not last as long.
At the moment, the price of the Ace Spade is at $199.99 with free shipping, 30-day return policy and 90-day warranty.
You can reach out with Ace if you experience any issues with the paddle. Click Here to view their warranty and return policy for more details.
The Spade Pickleball Paddle, designed and made in the USA by ACE Pickleball, exhibits a mixture of power and control.
It is made from a combination of polypropylene honeycomb and carbon fiber, which gives it a strong, lightweight, and durable construction.
With its balanced design, it is suitable for beginners and advanced players and can cater for offensive, defensive and all-around playing styles.
Overall, the Ace Spade is a top-quality paddle that is suitable for players looking for a high-performance paddle.
Price-wise, it is somewhat on the higher end so if you're a casual player and is only playing for fun and social activity, you might not be too keen to spend $200 at this stage. Although, you might want to reconsider should you progress to a more serious and competitive play.
The ACE Spade paddle is backed up by a 30-day return and 90-day warranty policies which is a great thing to consider if ever you want to try out the paddle.
We do hope that this ACE Spade Pickleball Paddle review has provided you with a better insight of what this paddle is all about.